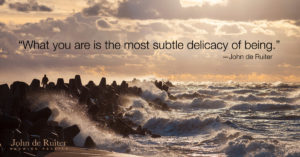 Awakening
Q: As I study counselling and read various theories on child development, I almost see that nature hardwires the bodymind for survival and it seems that what we really are is so opposite, that from the very beginning, nature is encouraging us to distort, and I wonder why.
John: It encourages distortion when you leave your heart. It encourages what you know in your heart when you stay in your heart.
Q: So all these theories and this particular way of seeing things, does that just come from people not seeing the whole picture?..
Read More »