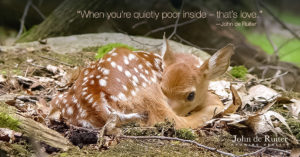 Canada
Q: What is this sense of energetic transmission that I feel? A month ago I read your little book The Intelligence of Love: Manifesting Your Being In This World and I felt this immense peace and energetic transmission.
John: You are linking up through your own deeper levels to what I come from, what I am, and me.
Q: I sense that this is my true home.
John: When someone outside of your self embodies the same as your being, when you are open in the presence of that, your being responds which gives you a direct experience of what you know the truth of…
Read More »