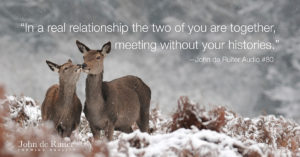 Enlightenment & Awakening
Q: Good morning, John. I have a question about what you call the being or beingness. You say this deconstruction of the self is not possible by means of the self but only from a deeper level, and I'm not sure what you mean with being and if there is a connection to that or if I overlook it all the time.
John: Openness and softness of heart is real connection with your own being. The place of connection or separation in relationship to your own being is your heart...
Read More »