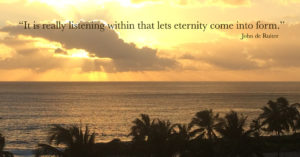 Canada
Q: Does lovemaking always address the base and the sexual chakra, or are others also addressed?
John: Yes – all of them. For real lovemaking you need all your chakras.
If your crown isn't opening what are you making love for that has to do with what is way bigger than your self?
Regarding your throat chakra, are you communicating everything that's inside of you? Even if you're not communicating in words, you're moving what's clear in your self.
Your heart chakra has to open and move…
Read More »